INON LE600h-S LED Light (600 Lumen, 30° Standard Beam, Using 3x AA Batteries)
| | |
| --- | --- |
| Price: | Rp3,420,000 |
| Availability: | In Stock |
| Model: | 4562121439917 |
| Manufacturer: | INON |




Bookmark | Print



Click to enlarge
[Description]
INON LE600h-S LED Light (600 Lumen, 30° Beam)
Waterproof and reliable for professional divers
Amphibious high color rendering handy light that can be used tough
Maximum light intensity 600 lumens, irradiation angle 30 degrees. For night diving, a bright beam illuminates the water accurately instead of a pointer that illuminates distant creatures. Also, by installing an optional filter, it can be used for shooting.
[Features]
● High color rendering and high color temperature LED chips with high color reproducibility are newly installed, and the color rendering index (Ra) is about 90. The color temperature is about 6500K. It produces the optimum light quality as a focus light or a light source for macro photography.
● By raising the color temperature, you can achieve a hue close to that of strobe light, and even if you use it as a target light during strobe shooting, you can shoot without any discomfort in the color of the light.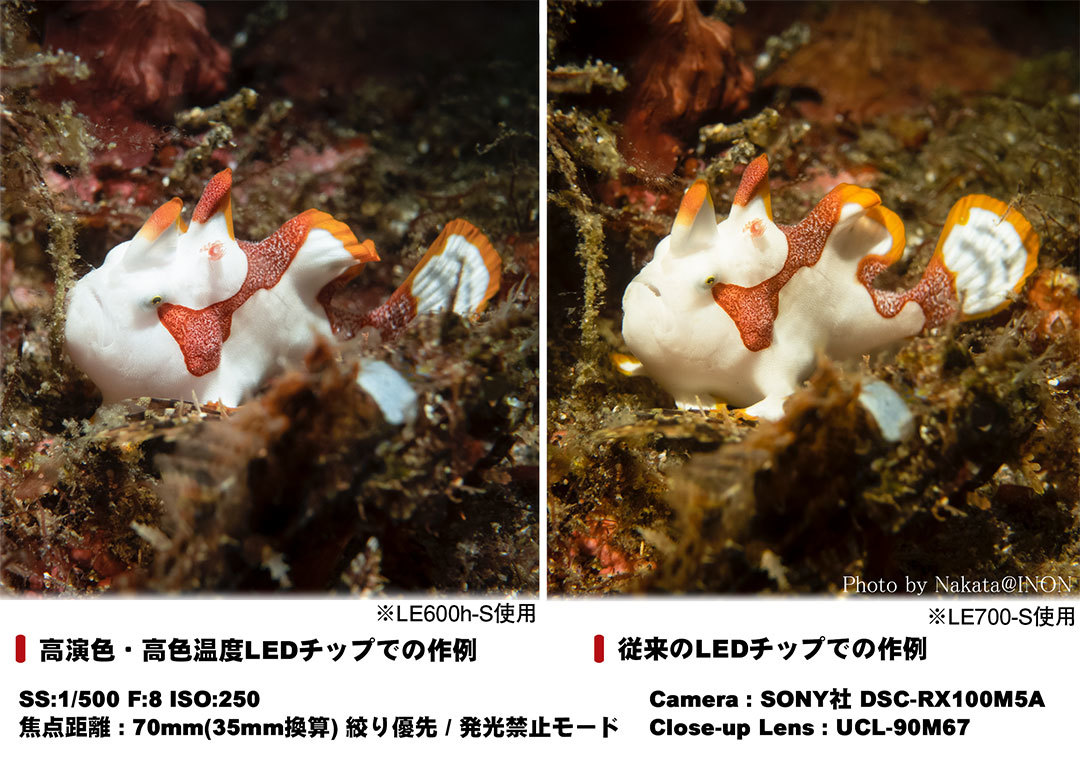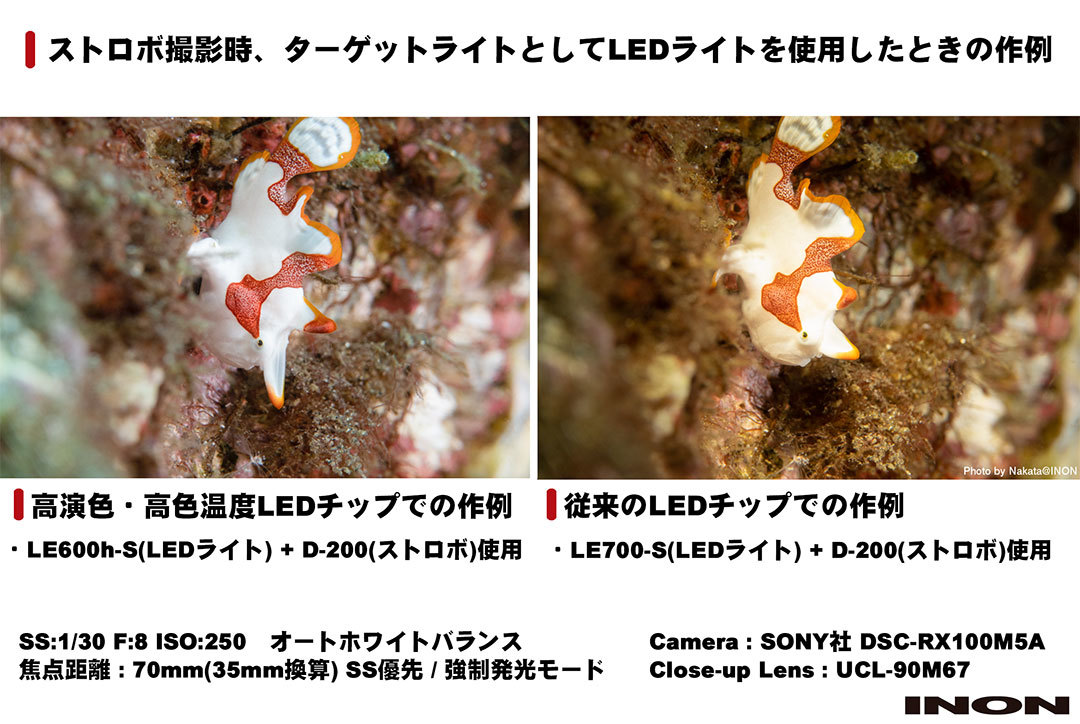 ● Uses 3 common and easily available AA batteries as the power source. The practical lighting time when using the eneloop pro rechargeable battery reaches about 80 minutes (*) in water. If you use a compatible rechargeable battery such as "eneloop", you can use the charger in common with the strobe. It can be used to reduce luggage and improve usability.
(*) Time required for continuous lighting in water at about 25 ° C until the brightness is reduced to half immediately after the start of light emission (measured value).
● Efficiently expands the irradiation range with the fly-eye lens structure The irradiation range can be expanded to approximately 60 ° by installing the "W50 ° filter LE" (accessory). LinkIcon Click here for details
-Comes with a "red filter LE" that makes it difficult to stress aquatic organisms that dislike light irradiation.
3 AA batteries
3 AA batteries
● A rich lineup of options for shooting applications for mounting on still cameras / camcorders.
● The light head and battery box are made of corrosion-resistant aluminum alloy with excellent durability. With a simple structure, a double O-ring is used for the moving parts, and the pressure resistant water depth is 120m. Furthermore, by making the switch part and the battery set part independent, and providing a rotation stopper in the switch part, it will not be submerged due to excessive loosening of the switch.
● Lightheads only, compatible 「LE700-S Type2」「LE700-S」「LE700-W Type2」「LE700-W」「LE600h-W」「LE550-S」「LE550-W」「LE350 Type2」「LE350」「LE330h」「LE250」 lightheads Can be exchanged for. It can be flexibly used according to the purpose and can be upgraded in the future.
[Accessories included]
W50 ° filter LE
Red filter LE
Hand strap
Inon Grease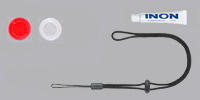 [Bean Angle]
Without filter: Beam angle 30°

With W50 ° filter LE: Beam angle 60°

[Specification]
[Manual]